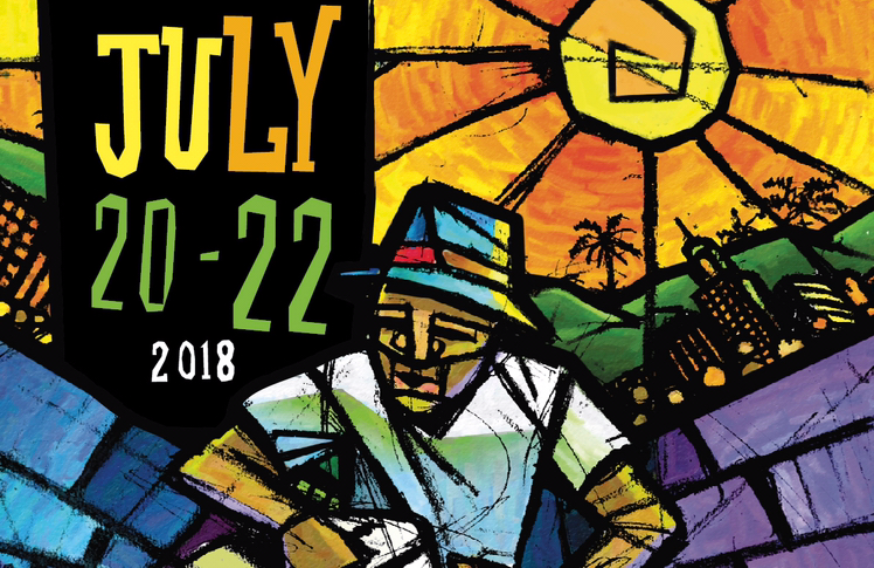 From July 20, 2018 - 05:00 PM
to July 22, 2018 - 11:00 PM
Bushnell Park
30 Arbor Street
06106, Hartford
The 2018 Schedule/Line-Up
The below schedule is subject to change.
Friday, July 20
The Pavilion Stage; Music starts at 7:00 PM
5:00 Gates Open
6:30 Opening Ceremony
7:00 Orq. Espada featuring Flute Maestro Nestor Torres with Alisha's House of Salsa Dancers
9:00 Spyro Gyra
Saturday, July 21
The Pavilion Stage; Music starts at 2:30 PM
2:30 Trombeatz
4:30 Ace Livingston
6:30 Michon Young
8:30 Elan Trotman Caribbean Connection Feat. Bernie Williams & Nestor Torres
10:30 Side Street "New England's Premier Dance Crew"
10:45 Andy Bassford's Jazz Conspiracy
Sunday, July 22
The Pavilion Stage; Music starts at 2:30 PM
2:30 Funky Dawgz Brass Band
4:00 Jocelyn Pleasant and the Lost Tribe
6:00 Mike Casey Trio featuring Benito Gonzalez
8:00 The Azar Lawrence Experience
About:
The Greater Hartford Festival of Jazz is a non-profit organization originally conceived by Paul Brown, noted Hartford jazz bassist and music educator. For 27 years, Paul had produced the Monday Night Jazz Concerts in Bushnell Park, drawing thousands of music lovers to Hartford's Bushnell Park for picnics and world-class entertainment. That first Greater Hartford Festival of Jazz, in July of 1992, was dedicated to the 25th anniversary of those wonderful summers.
Paul gathered some friends to help plan that first festival, but ultimately turned the Festival over to a Board of Directors comprised of volunteers from the Central Connecticut area, who continued to fulfill his dream of a world-class jazz event in Hartford, while he concentrated on his professional career and the Monday Night Jazz Concerts. Now in its 27th year, this free-of-charge Festival is supported by small and medium-sized charitable gifts and donations from foundations, businesses and corporations as well as City of Hartford and State of Connecticut grants. The Festival is also generously supported by contributions from individual jazz lovers throughout the region.
Notable performers at the Festival have included:
The McCoy Tyner Big Band and Arturo Sandoval (1993); The Duke Ellington Orchestra under the direction of Mercer Ellington (1994); The George Shearing Quintet (1995); Nancy Wilson (1996); The Heath Brothers and John Hendricks (1997); Dave Brubeck (1998); Marion Meadows and The Dizzy Gillespie All Stars under the direction of Jon Fadis (1999); John Scofield, Chuck Mangione, the Ramsey Lewis Trio and Nicholas Payton (2000); Gerald Albright and Herbie Mann (2001); Phil Woods, Bobby Caldwell and Joe Sample (2002); Billy Taylor, Sonny Fortune and Euge Groove (2003); Joey DeFrancesco, Byron Stripling and Peter White (2004); Ahmad Jamal and newcomer Eric Darius, Pieces of a Dream, Yellowjackets (2005); Mike Phillips, Kim Waters and the Woody Herman Big Band, Shawnn Monteiro with Special Guest Clark Terry (2006); Joyce Cooling, Pamela Williams, Gerald Albright, and Kevin Mahogany & The Kansas City Review (2007); Jeff Lorber, Nick Colionne, Four 80 East, and Kendrick Oliver & the New Life Orchestra (2008); Paul "Shiltz" Weimar, Bobby Lyle, Bob Baldwin, Azar Lawrence and The Rippingtons (2009); Doc Gibbs & N' Fusion, Lao Tizer, Chieli Minucci, Karen Briggs (2010); Curtis Haywood, Cindy Bradley, Matt Marshak, Paul "Shilts" Weimar, Steve Cole, Ralph Peterson, Al Foster Quartet with Special Guest Wallace Roney (2011); Elan Trotman with special guest Gerald Veasley, Jeff Golub, The Sax Pack, The Hartford Symphony Orchestra Jazz & Strings featuring Jimmy Greene (2012); Ed Byrne's Latin Jazz Evolution, Ace Livingston, Toscha Comeaux, Walter Beasley, Tom Browne (2013); Manuel Valera, David Sanborn, David Davis, Urban Jazz Coalition, Brian Simpson, Sherry Winston, Javon Jackson, Azar Lawrence (2014).
The Greater Hartford Festival of Jazz has grown to be the largest FREE jazz event in New England, with an average attendance of over 55,000, and attracting more than 70,000 fans during the three day Festival in 2017!
The tradition continues in 2018 in Bushnell Park, America's oldest public park, when the Greater Hartford Festival of Jazz will present its 27th annual event of three nights and two days of hot and cool jazz at the Performance Pavilion, featuring great artists from around the world and the USA. Connecticut's State Capitol Building and Hartford's skyline provide a beautiful, dramatic backdrop as the sun sets and the stars rise in the night sky and on stage.
Over 100 volunteers donate their time to work at the Festival, a true testimony to the popularity to which the Festival has risen since its 1992 debut. The Festival has a
history of presenting national and international mainstream, cutting-edge, traditional and contemporary jazz performers, aspiring local and regional artists and some truly wonderful young musicians from area schools and noteworthy jazz programs. During the Festival's lifetime, music history has literally been written on stage, perfectly matched by the intensity and appreciation of its audiences.
For additional information go to their website: