From July 20, 2020 - 10:00 AM
to July 24, 2020 - 06:00 PM
https://fac.umass.edu/Online/default.asp?BOparam::WScontent::loadArticle::permalink=JIJ&BOparam::WScontent::loadArticle::context_id=&utm_medium=social&utm_campaign=JIJFB&utm_source=Facebook&utm_nooverride=1&fbclid=IwAR0Z6p3m0CtoXPm5mDZKHBFdAnVOr0wjBtRgEyI
Jazz in July 2020 ONLINE!
July 20 - 24, 2020. Registration opens June 25th.
In March 2020 our lives were forever changed by the emergence of the novel Covid-19 virus. The University of Massachusetts campus remains closed this summer, in keeping with state guidelines and concerns about the safety and well-being of our community.
But we carry on! Jazz in July will be up and running in an online format this summer.
Jazz in July 2020 Online...
is one week of afternoon workshops on jazz improvisation, harmony and rhythm, instrumental/vocal master classes, and featured lectures, all with world-class jazz artists/educators. We will be using the Zoom platform, so you can participate from the comfort of your own practice space.

Schedule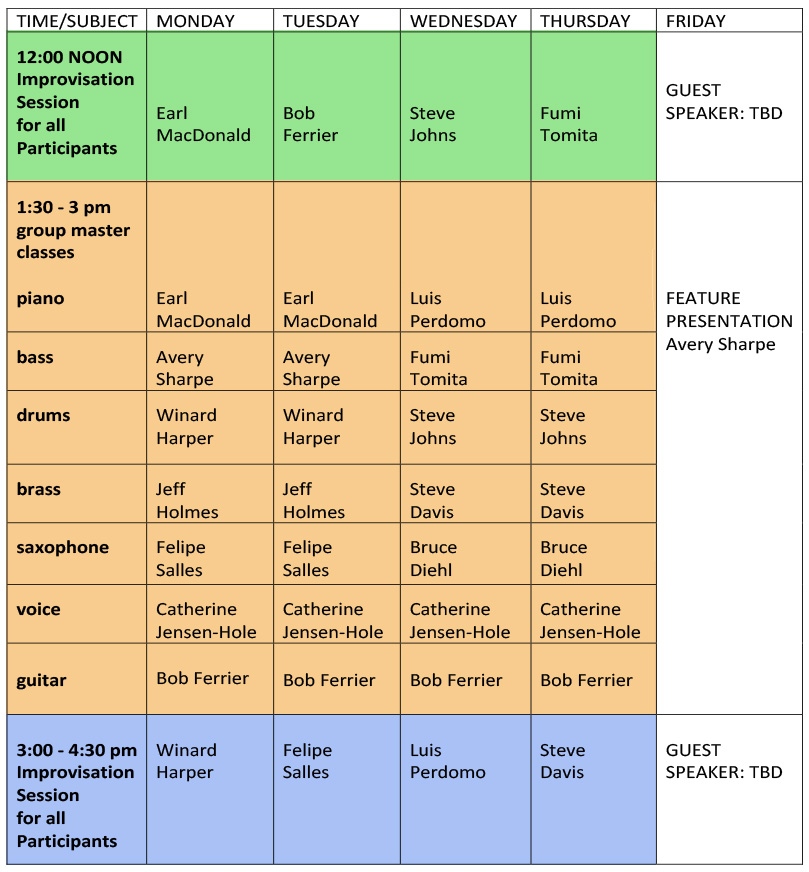 On Friday, July 24th, we will offer guest presentations free and open to the public via UMass Fine Arts Center Facebook. Check back here for details on how to participate.

12 noon -1:15 pm: LAKECIA BENJAMIN [Performance and interview]

1:30 -2:45 pm: AVERY SHARPE - Feature Presentation "Avery Sharpe and the 'Real McCoy" " [Sharpe's reflections on his many years performing with McCoy Tyner]

3:00 - 4:30 pm: CHRISTIAN SANDS [Guest presentation by Jazz in July alumni and former faculty member]

For More Information, Please Go To:
https://fac.umass.edu/Online/default.asp?BOparam::WScontent::loadArticle::permalink=JIJ&BOparam::WScontent::loadArticle::context_id=&utm_medium=social&utm_campaign=JIJFB&utm_source=Facebook&utm_nooverride=1&fbclid=IwAR0Z6p3m0CtoXPm5mDZKHBFdAnVOr0wjBtRgEyImjo4PCquAieoPyabkZFU